Building a guitar pedalboard from scratch (part 1)
So I recently decided to embark upon a journey in building a guitar pedalboard to keep all of my stomp boxes neat and tidy. I wanted it to be large enough and with enough features that I would hopefully never need to buy another (or until I decide that it's too large to be practical and want something more portable for gigging).
My initial requirements:
Large enough to hold all the pedals that I might ever own (I think I may have sacrificed portability with this one).
9V DC Power supply.
On-board AC power strip so I can power pedals which can't be daisy chained, or which require more than a standard 9V supply.
I/O sockets for 230V AC power, guitar in, guitar out, effects loop send, effects loop return, and a footswitch jack.
Covered in velcro-receptive carpet, to keep the pedals stuck to the board.
Maximum budget of £150
I made some measurements and decided that I wanted the surface of the board to be 850 x 555 mm I settled on a wedge-shaped design, like so many other great pedal boards, as it would allow me to mount the power strip and DC power supply underneath the board, while also making the back pedals more accessible.
Here are my initial plans from SketchUp: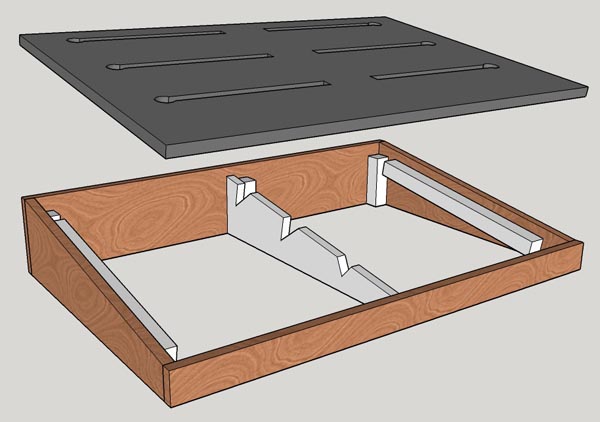 To be continued….